We Welcome You to the Piney Woods Ecoregion of East Texas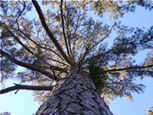 Sam Houston State University is located in one the most unique and beautiful regions of Texas, the Piney Woods Ecoregion, as simply depicted in our department logo (below right).
Our Mission

The Department of Biological Sciences is dedicated to the pursuit and dissemination of knowledge and scientific discovery in the life sciences through innovative teaching and research. Our department strives to instill in its students the philosophy of lifelong scholarship, producing scientifically literate members of society who have the knowledge to contribute and compete in a rapidly changing world as they pursue exciting careers in the biological sciences.