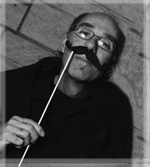 Tony Shipp
Associate Professor
Art Building C, R101
936.294.1324
art_trs@shsu.edu
Teaching Area: Sculpture
Tony Shipp grew up in Montana, he enrolled at the University of Montana Billings with his sights set on a degree in Animal Husbandry. That is, until he saw his first Frederic Remington sculptures. Tony decided to pursue a BA in Art. Looking for a change in climate, he applied and was accepted to the University of Florida, where he received a dual MFA in Photography and Sculpture. After graduate school he accepted his current job at Sam Houston State University, teaching sculpture and the occasional photography course.