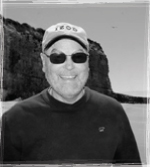 Thomas Seifert
Associate Professor
Brooks Institute of Photography, B.A., M.S.
Texas A & M University, Ph.D.
Art Building D, R102
936.294.1196
tseifert@shsu.edu
Teaching Area: Photography
http://www.shsu.edu/~ith_tas/
Dr. Seifert grew up in San Diego, California and after high school studied both philosophy and mathematics at the University of California San Diego. After working in both the retail and manufacturing sectors, he earned both Bachelor's and Master's degrees at the Brooks Institute of Photography in Santa Barbara, CA, and began working as a professional photographer. After accepting a position at SHSU in 1983, he began working toward a doctorate degree in Education at Texas A&M University, which was awarded in 1994. Dr. Seifert has taught a variety of subjects at Sam Houston State during his 30 year tenure, including digital, commercial, landscape, portrait, color, and black & white photography, the history of communications, photojournalism, and web site development.