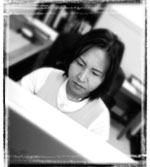 Taehee Kim
Associate Professor
Louisiana State University, M.F.A.
Art Building D, R104
936.294.4762
thkim@shsu.edu
Teaching Area: Graphic Design
Taehee Kim has explored art, science, technology, and culture. Kim continues to research the investigation of artistic ideas that merge to scientific technology. In conjunction with her research, Kim emphasizes experimentation aesthetically, conceptually and technically in graphic design education.