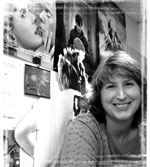 Charlotte Drumm
Associate Professor
Florida State University, M.F.A.
Art Building E, R104
936.294.1319
chuckdrumm@shsu.edu
Teaching Area: Graphic Design
Chuck Drumm received her MFA from Florida State University. She began teaching at Sam Houston State University in 1997, and is currently an Assistant Professor teaching in the areas of Foundations and Graphic Design. Chuck's mixed media artwork examines aspects of identity and gender. Her artwork has been exhibited nationally.