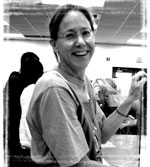 Mary Kate Borcherding
Professor
Indiana University M.F.A.
Art Building A, R103
936.294.1323
art_mkb@shsu.edu
Teaching Area: Printmaking
Kate Borcherding is an American artist working in mixed media. Her artistic style is both neoclassical and postmodern. Her art mainly focuses on the human figure, and is often psychological in nature with narratives expressed across multiple layers. She is currently a professor teaching printmaking: intaglio, lithography, relief, monoprint, silkscreen; book arts, life drawing, and occasionally 2D/3D at Sam Houston State University in Texas, where she has been employed since 1993.