SHSU Motto: The measure of a life is its service.
What Does ACE Mean to You?
Enrolling in ACE designated courses allows you to help fulfill the mission of the university by taking courses that implement community-based learning into the curriculum. ACE courses allow you to earn community service hours in your academic course. As a student, these courses provide you the opportunity to make a difference in our communities and to improve the quality of life for the people in the organizations you will be working with.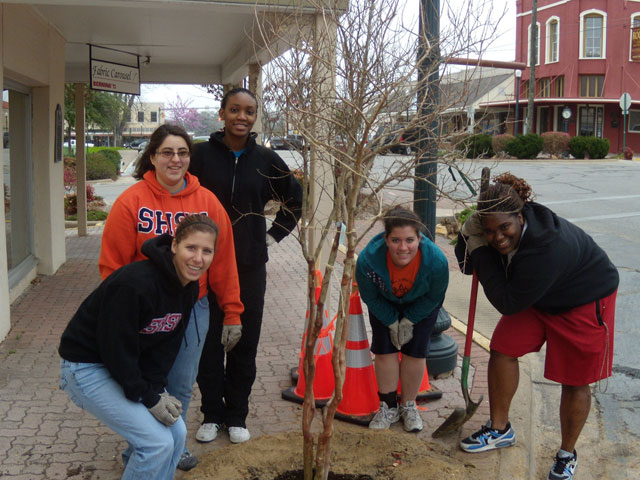 SHSU President Dana G. Hoyt said "At Sam Houston we strive to promote our students' intellectual, social, ethical and leadership growth, and we do this by offering civic engagement and service–learning opportunities." With ACE we can help implement our President's vision for Sam Houston State University.
ACE courses require a minimum of 9 hours of documented community service and offer the opportunity to network with community partners, earn credit for the ACE course, and possibly earn internship credit.
There are many benefits to taking ACE courses. Research indicates that ACE courses:
Have a positive effect on GPA
Help students improve writing and critical thinking skills
Improve students' leadership skills and ability
Allow students to be involved and make an impact on their community
There are over 210 courses across all seven colleges that currently have ACE designation and new courses are added every semester.
Student Testimonials
Since working with Habitat for Humanity I have been able to better understand how collective behavior works. The readings have been helpful but it really takes effect when you become a part of a group in the community. This is evident each time I walk onto a construction site and see familiar and new volunteers. As I have been working with Habitat for Humanity it has shown me that when people in the community join together with a positive purpose, it can be a social movement that attracts people of all walks of life. – JM—volunteering at Habitat for Humanity, Bryan/College Station
I immediately knew that it would be an experience I'd always remember because the students felt that we were helping in a big way. – CL—volunteering for Samuel Houston Elementary School's Computer Lab
Once I applied the concepts of resources to the organization that I am a part of, I began to really understand what they all mean. I understand better the importance of resources, especially the ones that aren't very obvious to me such as legitimacy and social networks. This better understanding also helps to bring clarity to the concept of collective behavior. Without resources to back up an organization, the people involved cannot act collectively toward their cause. – MH—volunteering at West Houston Seventh Day Adventist Community Outreach Ministry
Volunteering for such a positive program (21st Century Community Learning Center in HISD) has allowed me to apply concepts from this course to current real life situations. 21st Century's motives can be linked to the concepts I have discussed in this essay: collective behavior, collective action, organization and mobilizing grievances. And, in turn, the readings and lectures of this course have been beneficial for me and allowed me to identify them in present circumstances. Now that I have an understanding for these concepts, along with many others, I am able to easily recognize how they are used daily through programs; and not just programs but also with members in our community. – GG—volunteering at 21st Century Community Learning Center, Huntsville (HISD)
Student Links