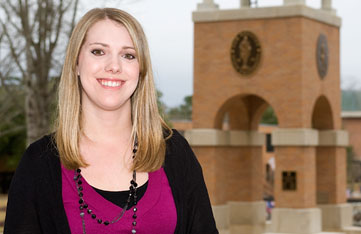 SHSU Broadcast Journalism student Heather Itzen calls it "the internship of a lifetime." She spent a summer in New York City working with iconic news anchor and SHSU alumnus Dan Rather. When she wasn't assisting producers with research and story development for Dan Rather Reports, Heather accompanied the CBS Evening News legend, soaking up journalism tips and reinforcing her passion for her future career.
For someone from Richmond, Texas, a small subdivision just outside Houston, interning in the heart of Manhattan was a brand-new experience. But then, each college experience for Heather is something fresh, and not just for her but for her whole family. When she graduates in May, Heather will be the first in her family to earn a college degree.
After her internship, she returned to the SHSU Mass Communication Department to resume classes in the Dan Rather Communications Building.
"The Broadcast Journalism program here is very hands-on," she says. "Students are encouraged to become involved even in their first year. They can work with the campus television and radio stations as well as taking courses that prepare them for the professional world."
Heather is the lead producer for News 7, SHSU's student-run TV station that broadcasts local news for campus and the city of Huntsville. She also is president of SHSU's chapter of the National Broadcasting Society, ambassador for the Honors College and a member of the Golden Key Honour Society.
In a college career filled with memorable experiences, Heather's favorite is formally receiving her college ring during SHSU's Ring Ceremony. She was able to share a proud moment with her family and reward her hard work with a ring that ties her story with the great Sam Houston himself. Each SHSU ring comes with the word Honor engraved inside. This is the very word engraved inside a cherished ring Sam Houston wore, given to him by his mother.
Heather cherishes her ring as well. "It ties all aspects of the University together," she says, "from the life of Sam Houston, the historical background of the University and the acknowledgement of the achievements of the students."